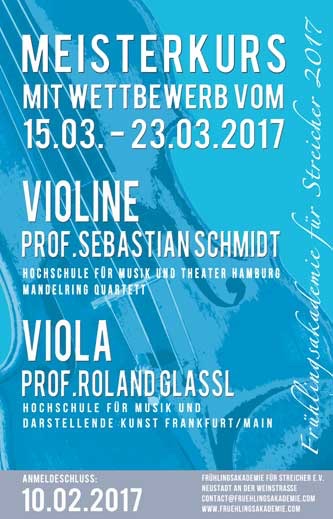 Master class with competition 2018
for Violin and Viola
March 19 - 27, 2018


More information you can find on the official webpage.
Registration deadline is January 31, 2018.

The 11th International Spring Academy will take place in an especially charming setting. Founded around the year 700, the estate and manor "Herrenhof Mußbach" in Neustadt an der Weinstraße displays a relaxed and rural atmosphere. Neustadt is located in the centre of the most beautiful winegrowing region of Germany. During the masterclass, students will have the opportunity to perform in a number of concerts.

The final event will be the competition concert to be held in the concert hall of the Herrenhof on March 23th.

In both categories a Jury will award prizes upto 1.000 €. There will also be an audience prize. During the following year additional concerts will be arranged for the top prizewinners.
Participants who wish to take part in the violin or viola competition will find the requirements for it here. (2018 yet to follow)
Registration:
We recommend to sign up in time for he masterclass, because each course is limited to max.15 participants.